AIF 63.0 hours (2.1 hours last flights)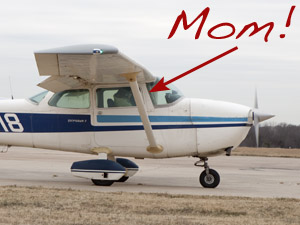 Guess what? I FINALLY was able to get my motorcycle riding, daredevil of a mother up in the plane! Oh sweet fun!!
We took up N75918 again, and when we got to the field it was FREEZING. Well, below freezing actually. Ask my passengers, spectators, and one of the best airplane mechanics at 52F. We got loaded up and went to crank the starter…. NADA. Too cold to get it moving.
So Shawn took a few minutes with the plane, hammered a few places, and got it roaring to life. That was after we spent about 10 minutes trying to hand prop it. Shawn was visibly tired.
So, off and ready to go, we roared down the runway. Mom was much better when we were up in the air, and she saw it was not as scary as it looked. I took her around the plane before we left to pre-flight it. I was hoping that if she saw some of the inner workings of the plane, that she would feel more comfortable—especially since the motorcycle she rides at similar speeds might just be more complicated than the 172.
I knew that the first flight would have to be brief. Just to give her a taste and take the edge off. So we only chalked up 0.3 hours in the plane. We took off, headed west just past TMS, and made a u-turn back to 52F. Then we landed! Mom did not like the landing part. It looks like the end is near when you are sitting in the front seat for the first time. But once we had a kissably smooth landing, she calmed down a bit.
Then we taxied off so she could head out!
She jumped out and hugged Dad, and then we said "Seeya." We (James, Dad) had important things to accomplish.
Like flying to Stephenville to get BBQ at Hard 8!
The flight was relatively uneventful. The 10-15kt head wind turned into a 10-15kt tail wind on the way back. On the way out, we got clearance through Class Bravo airspace, then about 3 miles outside of the airspace, regional approach abruptly terminated our radar service. I had to get set up again from Ft. Worth Center.
Boy it was cold today. That golf cart ride over to Hard 8 was almost unbearable.
On the way back in, we had to fly under the Class Bravo (not surprising). One of these days when I get my instrument rating, that may change.