AIF, 73.2 hours (1.3 hours last flight)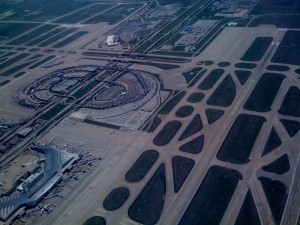 Today's flight was with Cayce! We tried to do a flight a few weeks ago, but Texas weather foiled us. This time of year is hard to fly VFR simply because the weather changes on a dime. More motivation to get my instrument rating… maybe this year.
Anyway, because of the high winds, I opted to scrub the long part of our flight and just stay local. We were originally planning to hit the burger joint up at Lake Texoma State Park, but with 20+ knot winds from the south, I just didn't feel like fighting it. So instead, we went to Addison to hit the Outer Marker. UNFORTUNATELY, they don't open until 5pm!
DOH.
So back in the plane, and headed to do the downtown tour. One thing about towered airports with ground control, sometimes they don't do a clean handoff. I had to go back to ground to get set up, and then they read a huge list of instructions to me, for which I was not prepared. They had to read it back again, and it took me a few minutes before I got the correct readback. Why was I not prepared? Because I was expecting the TOWER to give me those instructions, not ground control. Amateur mistake. Lesson? BE READY.
Once I got the readback right, we took off and headed toward Love. Then did our run around downtown. On the way back, we DID get to fly over D/FW (as you can see) at an altitude of 3,500 feet. By the way, it's hard not to laugh when a controller asks you to perform an expedited climb in a 172. We were at 1,500 and had to climb to 3,500 before we could turn toward D/FW. So, I did some climbing turns to accomplish this, and then we were off.
Flew right across midfield! VERY cool. The folks visiting Founder's Plaza were probably wondering what that wind up plane was doing flying right over the top. Course, they probably heard my voice over the speakers too!
Also had a lesson in remembering that I was Pilot In Command, and had to be vigilant. ATC lost track of us about eight miles from Northwest Regional. Somehow our intentions were not clearly communicated between controllers, and I was getting close to an area they wanted me to stay clear of. Thankfully, I was able to quickly convey our intentions, and they allowed us to descend rapidly to our airport, which was VERY BUSY.
Three planes in the pattern and a HOST of stuff going on over at Texas Motor Speedway (race weekend!) made the need for a sterile cockpit absolutely essential. We came in behind a Piper Archer, departing to the north, and had 2 planes behind us. WOH.
Landed without incident, but sure was windy! Last landing was a little rougher than I wanted, but that's what the gusting wind can do to you.
Enjoyed it!!