AIF 68.2 hours (4.4 hours last flight!)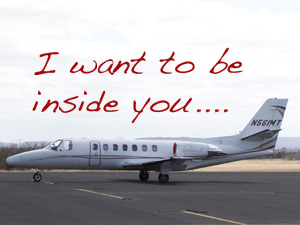 Yes, it really was 4.4 hours today.  It was cross country day!  Lee & I tried to do a similar trip in October, but the weather prevented my landing at the airport.  It may be IFR at an airport, but it sure is VFR on top!
We departed KDTO at about 9:30 as planned (though we were delayed slightly when I lost page N-11 of the POH for the aircraft… found it wedged between the seats), and headed south for Lake Whitney (F50).  I should mention, we were flying the same aircraft as yesterday, N8348M.  It's a Cessna 172, but made in 1998 with GPS and fuel injected goodness.
Mmmmm, tasty….
Landing at Lake Whitney was interesting.  Why you ask?  Because it is only a 2,000 foot runway!  That's short!  I had PLENTY of space, but when you are used to landing on nothing smaller than a 3,000 foot runway, it looks the size of a quarter.  It's shorter than Possum Kingdom, where I did three cross-country solo flights.  Anyway… we landed and braked, then turned around to take back off… no touch and go there. (Edit: The way it read at first suggested we did not land there… we did!  And I used more than half of that 2000 feet!)
We stopped, I took a leak, and noticed that it is the hub for the Whitney RC Flying Club.  Makes me feel really comfortable taking off there.  We did it without incident, and took some pictures of the lake house from the air.  Then headed down to Llano.
Landing at Llano occurred without incident.  We called ahead and got a courtesy car ready so we could go to Cooper's Bar-B-Que.  It's right up there with Hard 8.  So tasty.
After parking, I noticed that big monster you see above parked!  It's a Cessna Citation V.  Oh so sexy.  What it is doing in Llano is anyone's guess.
So then we ate, fueled, and took off.  Headed north to Lee's lease.  Got some shots there, then headed to the 4J.  More pictures, then headed home.
We were met with a 35-45kt headwind when we were headed south, and to maintain VFR, we had to fly below the clouds.  While not a challenge, annoying to say the least.  We did get to ride the same wind back home.  First time I have exceeded 150kts over ground!  We got back in no time.
I feel very comfortable flying in heavier winds now.  In both cases, the winds were either straight down the runway, or a 10-20 degree cross.  VERY minor cross, even though the winds were easily 20kts gusting to 25 or 30.
FUN day of flying!  I've got to figure out how to rig my 5D Mark II to the wing strut or something so I can take some nice high-res shots.