AIF, 59.3 hours (0.9 hours last flight)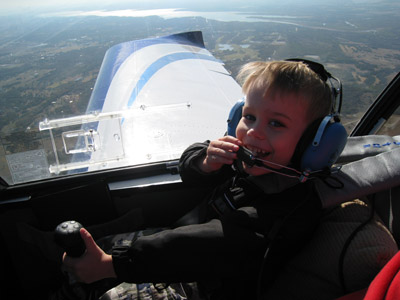 Garrett needed some one on one time with Daddy. What better way to do this then to strap in to a SportStar and go flying?
This one was very uneventful. Flew over the parents house three times, and did a go around on the landing. The wind was coming in from the north, and I don't like landing on the 35 end of the runway. Wanted a practice approach before setting down.
Boy that thing REALLY moves in cold air. Cruising at 95 kias, 2,500 feet, and something like 80% power. In warm air, we NEVER get that kind of performance.
So he did well. As you can see, he has flown a plane WELL before he has driven a car. He gets a little bored with straight and level (though Daddy never seems to), and eventually decided it was time to land.
Next flight may be this week down to Hard 8 BBQ in Stephenville. Just exploring it now.